What happens to beer when you pour it into a hot pan?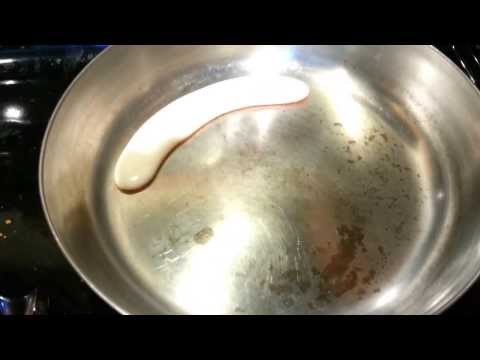 If you though it would boil, you were wrong. It actually does this cool thing called
Here's the description from Wikipedia:
The Leidenfrost effect is a phenomenon in which a liquid, in near contact with a mass significantly hotter than the liquid's boiling point, produces an insulating vapor layer keeping that liquid from boiling rapidly. This is most commonly seen when cooking; one sprinkles drops of water in a pan to gauge its temperature: if the pan's temperature is at or above the Leidenfrost point, the water skitters across the pan and takes longer to evaporate than in a pan below the temperature of the Leidenfrost point (but still above boiling temperature). The effect is also responsible for the ability of liquid nitrogen to skitter across floors. It has also been used in some potentially dangerous demonstrations, such as dipping a wet finger in molten lead[1] or blowing out a mouthful of liquid nitrogen, both enacted without injury to the demonstrator.[2] The latter is potentially lethal, particularly should one accidentally swallow the liquid nitrogen.[3] It is named after Johann Gottlob Leidenfrost, who discussed it in A Tract About Some Qualities of Common Water in 1756.